S
orry I haven't been around much. My world has been spun around and flipped upside down lately. I've been having a hell of a time with school and my financial aid. It's been so stressful and exhausting. I might have to cut my schooling short or take a break for a while cause nothing is working out.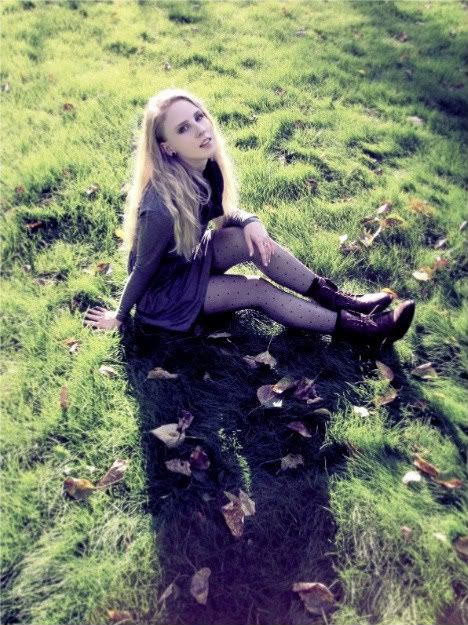 I've never done an outfit shoot where I'm sitting in each picture. I couldn't find a background anywhere so I stuck with the grass. So much green makes it hard to edit the photos though! I couldn't get the right color effect I wanted. Oh, well!
I love the look of the colorful leaves on the ground. My dad goes crazy trying to constantly get rid of them. I liked the long grass and the leaves so I had to hurry and take pictures before he mowed and used his trusty leaf blower. Lol.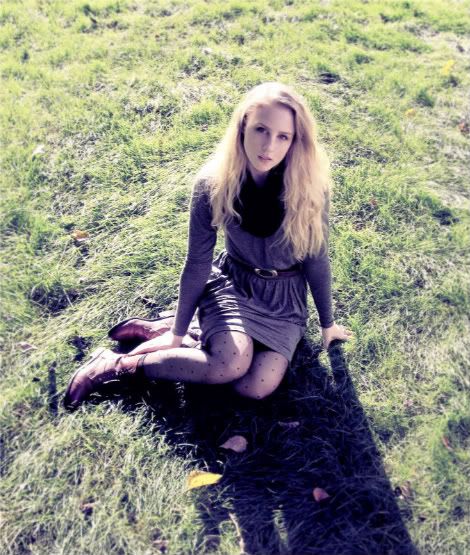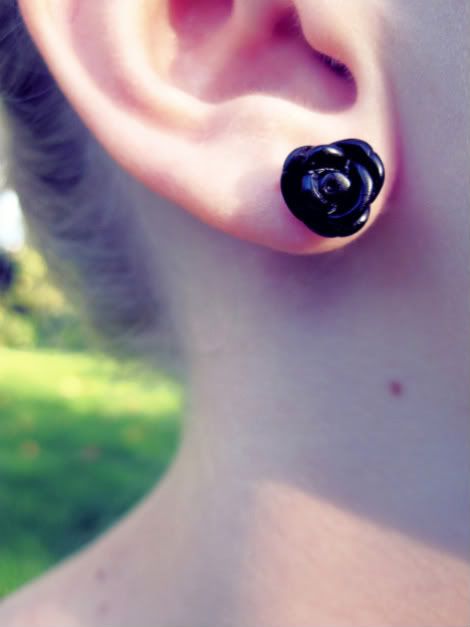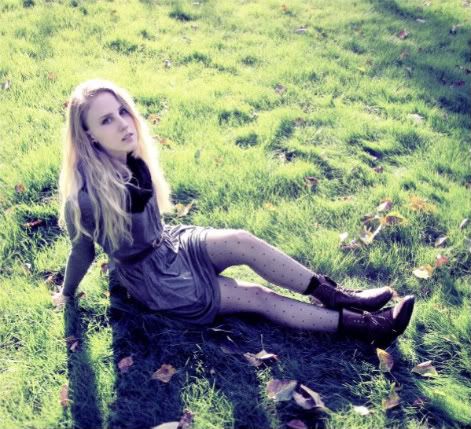 I did some online fall shopping last week. Spent all my budget at Forever 21. I definitely prefer online shopping vs going to the mall. When you shop online, you can take your time, compare prices, search through all the stock, and you don't have to wait in long lines. I bought a bunch of dresses for like $11 and $13, patterned tights, leggings, scarves, and tons of accessories. I got quite a bit of earrings and hair bows/clips for $1.50! You'll see all of it in outfit posts in the future.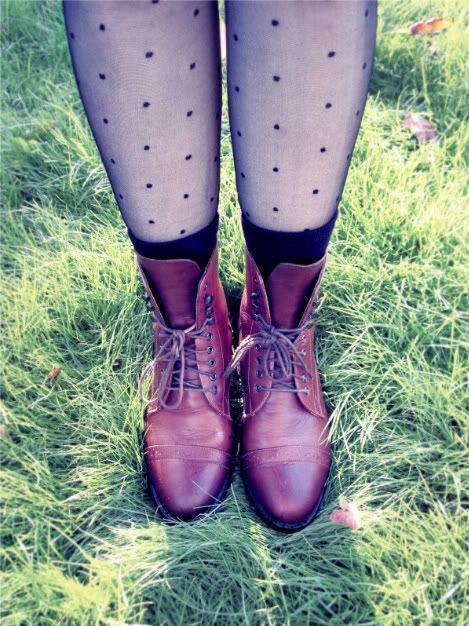 Everything I'm wearing is from Forever 21, besides the thrifted belt and boots (Look at the bottom of the post for details and prices). I've been searching and searching for some boots like theses for I don't even know how long. I found them at Value Village during their Labor Day sale for 50% off. They are half a size too small for my feet, but I bought them anyways. I do this A LOT. Lol. (I always buy flats half a size smaller cause I like them tighter on my feet and not sloppy.) I believe in the saying, "Pain is beauty." Lol. They were quite snug, but after cleaning them up, I took the insoles out and replaced them with some thinner ones I had and they fit MUCH better. I can actually wear them without my toes going numb! Haha.
I got pretty lucky finding the belt that same day. I was able to match the boots with leather belt colors and this one is an exact match. I like having a belt to match with my shoes. I'm a perfectionist when it comes to making colors in an outfit flow. Lol.
Well, I'm dead. Have a great Thursday all!!!
XOXO,

My outfit:
Gray long sleeved pocketed dress by Forever 21 - $13
Black circle scarf by Forever 21 - $7
Black rose earrings by Forever 21 - $1
Black dotted tights by Forever 21 - $5.80
Black socks by Forever 21 - Pack of 7 for $6.50
Thrifted 90s brown leather belt from Value Village - $1
Thrifted brown leather boots from Value Village - $6.99