H
ow is everyone today? I hope you all are doing well. I'm having one of those days where you just don't feel like doing anything. I'm feeling very sluggish. I think I'm getting a cold. I feel super tired and I've got a slight annoying tingle in the back of my throat. That's not good news. I hope it doesn't get worse. Being sick in the summer is just ridiculous, lol.
My hair has been driving me a bit nuts. As you can tell from the photos below, I have quite a bit of grow out. I'm naturally a blonde in the light to medium ash shade area, but I dyed my hair
dark brown
(myspace pose, I know) the summer of my junior year in high school. I'm the kind of person that likes to mix things up and try something different. I've done tons of different things with my hair, but going brown turned out to be a mistake. I loved being a brunette, but trying to get back to my natural color has been a nightmare for the last three years. In the process of going back blonde, I have been a
red head
, and many many different shades of blonde ranging from platinum to golden. Instead of fighting my grow out and repeated failed attempts of trying to find an exactly shade of dye that matched my natural color, a few months ago, I just decided to let it grow out, in order to get my natural color back. Has anyone else had to do this? I'm really not digging this two toned hair. I'll like it when it grows out a little more and looks like
this
(with the lighter color toward the ends). I'm also growing out some old side-swept bangs, which is why I have the short pieces around my face. Because of all this, I've just been begging my hair to grow! Sorry for all the hair chit chat, lol.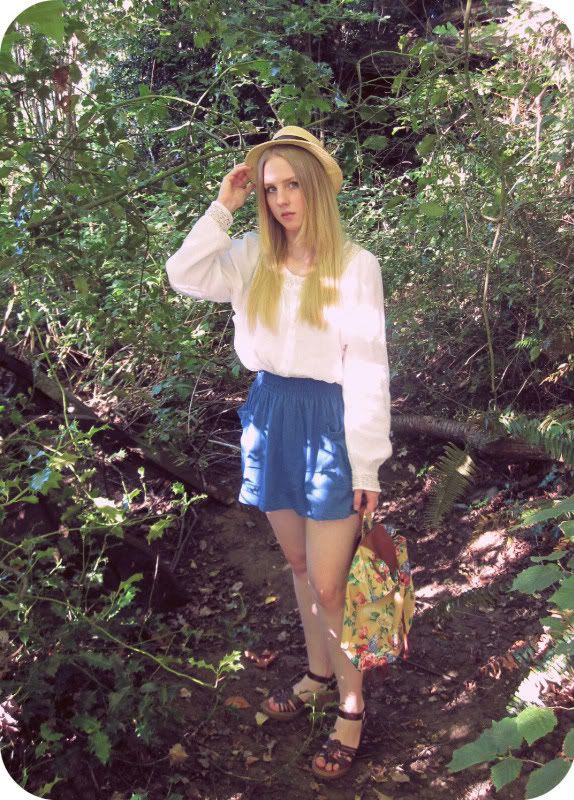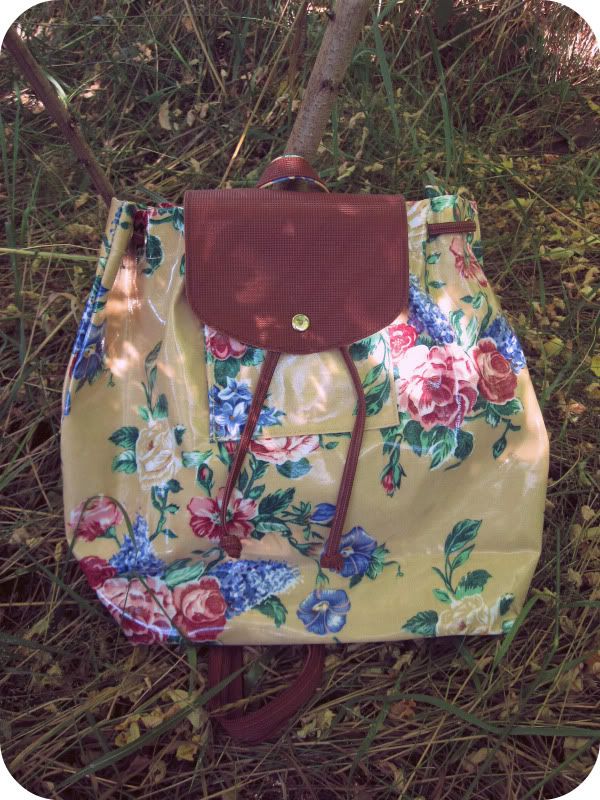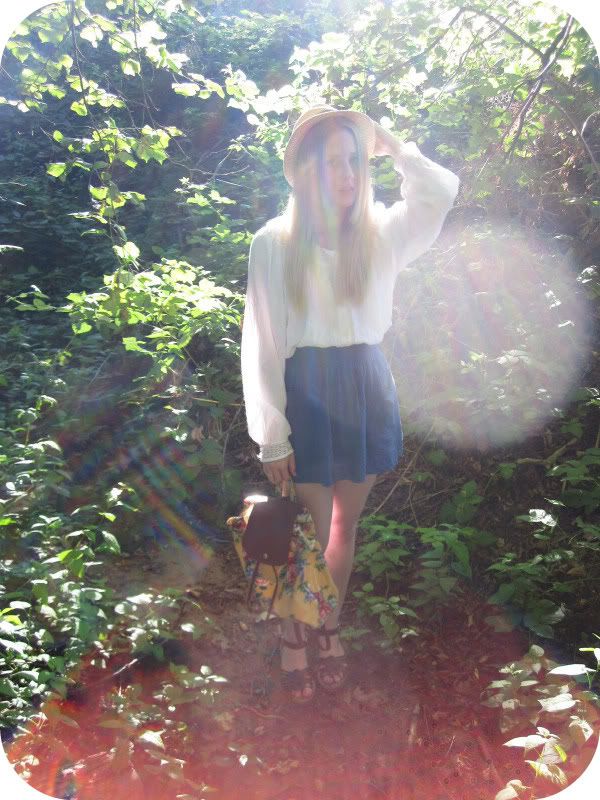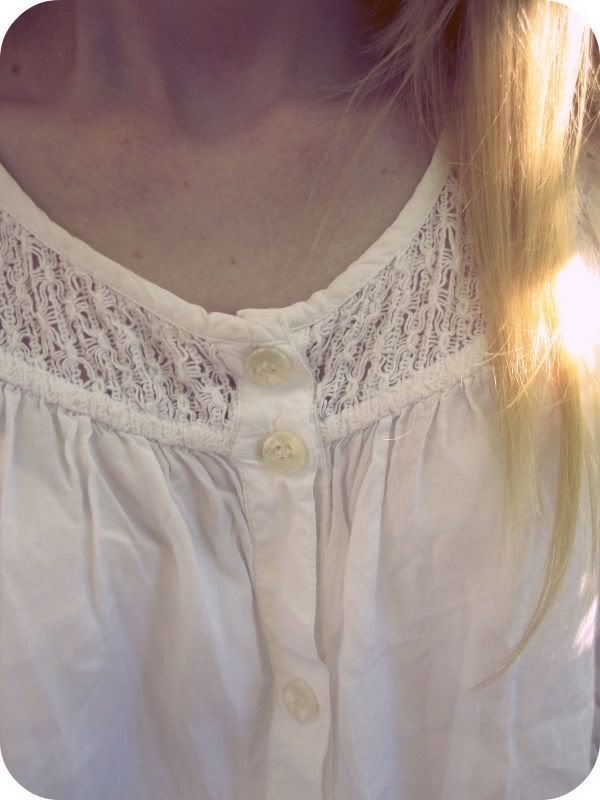 The shirt and backpack are my favorites. I got both of them for $13 at
Redlight Vintage
when my mom, brother, and I all went vintage shopping in Seattle back in March or April.
The shirt is actually a large, but I loved it so much I couldn't help but buy it. It fits like an oversized tunic on me. I love the detailing around the neckline and ends of the sleeves.
I died when I saw the backpack. The floral print is so pretty. I also love how it is made out of a raincoat type material, which is always good for Washington's rainy weather! =D
I took the photos in my backyard. I'm actually standing where a creek normally runs through, but it is all dried up right now. I had to make my way down the dirt covered creek bank, through branches, spiderwebs, piles of dead leafs, and sticker bushes to get down there...while wearing those wedges. Haha. My cat,
Coco
, followed me the whole way and watched as I took pictures. To the left of me (in the first and last photo) is a frame of an old pickup truck from the 50s. No ones had the heart to drag it out and get rid of it. I personally like it.
That's all for now, ladies. I have some cleaning I need to force myself do and some much needed reading time to get to.
Shopaholic and Baby
, anyone? (Really silly I know, and the protagonist is an airhead, but I'm sucked in for some reason, lol.)
Thank you all for your comments! :)
XOXO,

My outfit:
Fedora hat by Forever 21
Vintage white blouse circa 1960s from Redlight Vintage
Blue pocketed skirt by Forever 21
Brown wedge sandals from Payless Shoes
Vintage floral backpack from Redlight Vintage