I
've never talked about this before, but I love to sew. It's nothing new, I always have. My mom and grandma taught me at any early age. I started practicing on construction paper at about six years old, lol. I come from a family where sewing is in the blood. My great grandma, Ruth, was featured in Time Magazine for her sewing and also featured in a 1949 issue of Life Magazine as one of the top ten fashion seamstresses of the time. She was Miss Singer for
Singer
sewing machines two years in a row, and also sewed President Nixon's daughter,
Julie Nixon's wedd
ing dress
! She also modeled and did commercials for Wells Fargo.
She was a very talented lady, someone I wish I would have been able to get to know better (I was a child when she died). Her sewing skills were taught and passed down the family line. She taught my grandma, "Nan" everything she knew. My Nan makes everything: curtains, chair cushions, pillows, clothes, wedding dresses...you name it! She made me Halloween costumes growing up and yearly birthday and Christmas dresses. She has taught me a lot and even bought me my first sewing machine. My mom is also handy with a needle and thread.
I hope to one day be a great sewer too, like the women in my family before me. I've always been interested in sewing and designing so Project Runway is inspiring to me.
The new season just started late last month, but already it seems like the the judges are going to have to make hard decisions to chose the winner. I really think everyone has good ideas.
Initially from the beginning, my favorites were Gretchen and Valerie. Both their ideas and creations were more appealing to me. I was scared Gretchen was going to be voted off last episode. I like her designs, but personally, I hate her attitude. She's too full of herself in my opinion.
My favorites of Gretchen's designs: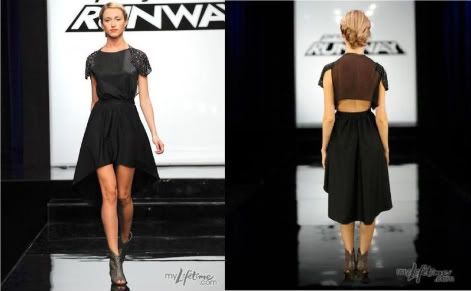 I love this dress. I love the sequin shoulders and the overall cut of the whole design. I really love the back. It's elegant but a bit sexy. And she made it all in five hours!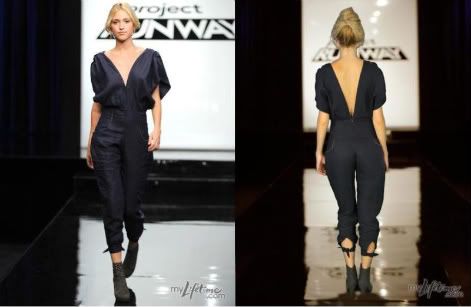 I want this jumpsuit!! SO BAD! I think it's adorable. I love the color, the deep V neckline, and the small details like the ties on the back of the calves and the white trimmed pockets. It looks comfortable too. I like how flowy the top part is. In my opinion, flowy = comfort. It's a look that can be casual or dressed up. An exposed back is always sexy too. I must say, this model does not know how to stand. The back shot is just terrible, lol.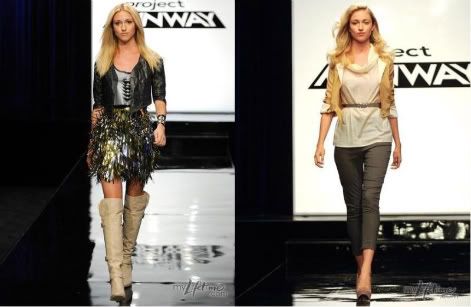 In the first look, I think Gretchen did a great job making all the pieces. This was the challenge were the designers had to make an outfit solely from items sold at a party store (episode three). The jacket and top were from made from paper and the skirt from string plastic fringe. The only thing I don't like about the look is the boots she picked to pair with the outfit. I just don't care for them. I think the second look is classy and sophisticated. Something I'd wear to work if I worked in a nice office.
My favorite's out of Valerie's designs: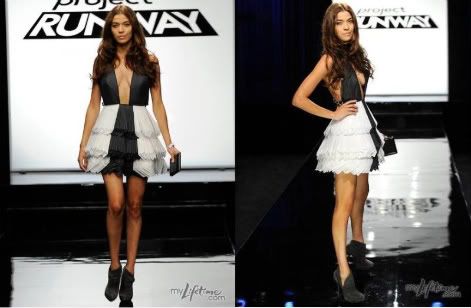 This look was constructed completely out of napkins. How amazing is that?!



I think Valerie is really good at creating something that looks great on the female body. These dresses look perfect on the models. I also love how she makes feminine pieces, but adds some edginess to it, like with the visible zippers.
Other mentionables from the season so far:

Peach is probably one of my least favorites, but she surprised me with her design from last night's episode. I really like it.
The judges hated it, but I love the color palette Ivy used to create her look from last night's episode. I love the combo of the burgundy, olive, and brown.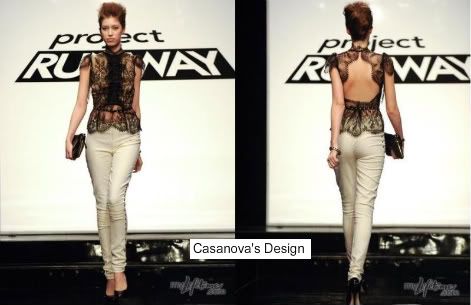 Casanova has had a rocky start so far on the show, but this look he pulled together in last night's episode is so pretty. I love the top. The back is gorgeously cut and made! And the man knows how to make pants! I love the gold buttons he did all the way down the outside seam of the legs. He was so upset that Tim Gunn said it looked like an old woman's top, but I like it! I like elegant, dressy pieces once in a while. I'd wear it!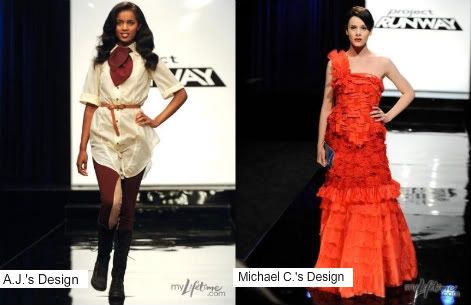 I really like A.J.'s outfit. I die for shirt dresses! I love the whole look, but I don't care for the camel inner panel of the leggings. I think he should have kept them the solid burgundy. They remind me of a jester outfit, lol.
Michael C.'s look is from episode three, I believe he made it mostly out of tissue paper? I'm not 100% sure.



I love these outfits. They were also apart of the party store challenge (episode 3). Andy's look was made from different types of ribbon and ribbon he hand braided. It's so cool. I don't recall what exactly April's design was made out of, sorry.
If you guys haven't seen the new season, but are interested in watching it, all the full episodes are available for a short time online at
Lifetime.com
.
XOXO,

Sources: All photos were taken from Lifetime.com and are property of Lifetime.